Extended Hours
For too many evenings, staff have seen customer racing to get to the co-op after work before we closed at 6 pm. Well, no more. Manna is now open from 9 am to 7 pm each day of the workweek! Take your time and come and see us this week!
HOURS:
Monday-Friday: 9 am to 7 pm
Saturday: 10 am to 5 pm
Sunday: Noon to 5 pm
Member Special: NearEast Organic Couscous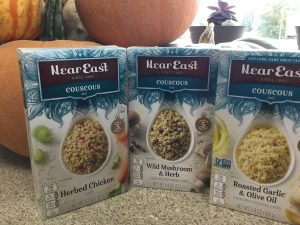 Nothing makes for quicker meal than couscous. This handy Middle-Eastern staple is also super flexible and goes with nearly any vegetable.
Regular Price: $2.59
Member-owner special: $2.33
Product Highlight: Kitchen and Love Quick Meals
Looking for something quick and easy for lunch or dinner? Try these organic single-serve bowls we're now stocking. Three vegan and gluten-free varieties are now on the shelves and on member special:
Regular price of $3.99, now on member-special for $3.59 in October.